News
Stay informed about the HIT-CF project! Use the buttons on the left to navigate through the most recent developments.
March 30th, 2020 – The Covid-19 epidemic continues impacting every aspects of the HIT-CF project. KU Leuven and Eloxx Pharmaceuticals tell us what this crisis has changed for them and what it means for the project.
The CF research lab at the Catholic University of Leuven (KU Leuven) in Belgium is one of the academic sites participating in the screening of the organoids, with the objective to identify new compounds to treat CF in patients with rare mutations.
"At the moment, due to the Covid-19 crisis and according to the national guidelines implemented at the University to limit the spreading of the virus, we had to postpone all the work in the lab, including the screening of the drug candidates in the CF organoids" says Anabela S. Ramalho, post-doctoral researcher responsible for the CF research lab at KU Leuven.
"All the samples that have not been yet tested are safely stored (frozen) and will be analysed when the new guidelines allow to return to work in the lab, hopefully as soon as possible. In the meantime, we will work further on the analysis of the data that was already collected.​"
Below, Anabela S. Ramalho gives us a tour of the unusually quiet and deserted lab at KU Leuven: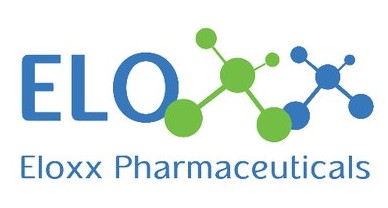 Eloxx Pharmaceuticals (Waltham, MA, USA), industrial partner providing drug candidates, is also implementing safety measures:
"In response to the Covid-19 pandemic, Eloxx has temporarily paused enrollment across our Cystic Fibrosis clinical trials in an effort to avoid unnecessary exposure in at-risk populations, to main tain the integrity of our study data and to support global healthcare providers in their commitment to ensure patient safety. Despite this pause, Eloxx Pharmaceuticals remains committed to the HIT-CF consortium and the broader cystic fibrosis community and will continue our efforts to advance novel therapeutics for patients with unmet medical needs."
March 26th, 2020 – Proteostasis Therapeutics Inc. (Boston, MA, USA) is one of our industrial partners in this outstanding adventure. They also have taken measures to contribute to the hindering of the epidemic spreading throughout the globe, president and CEO explains: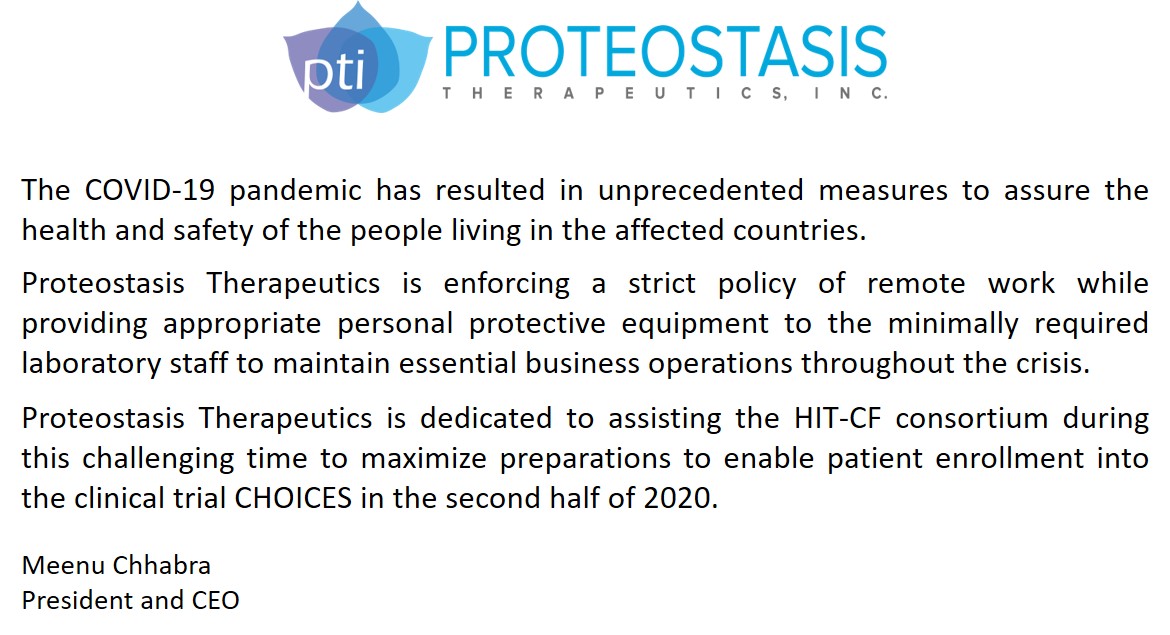 March 23rd, 2020 – Covid-19 epidemic is impacting research and the HIT-CF project. 
The ECFS-CTN coordinating centre in Leuven, Belgium, is fully operational at the moment, with everybody working from home. The clinical trial sites part of the network are implementing contingency plans for ongoing trials in cooperation with study sponsors and based on the local situation and guidelines, to maximise patient safety.
Below, Kors van der Ent, coordinator of the HIT-CF project at UMC Utrecht, gives an update of the current status of the project and of what awaits us in the months to come. "Stay strong, and stay safe, we will overcome the crisis, and we will win the battle against CF!"
Share this page: