PART 2 – clinical trials
CHOICES
In CHOICES, the former Proteostasis triple therapy will be tested. It consists of a potentiator (Dirocaftor), a corrector (Posenacaftor) and an amplifier (Nesolicaftor). This drug should increase the number of working CFTR channels on the cell surface.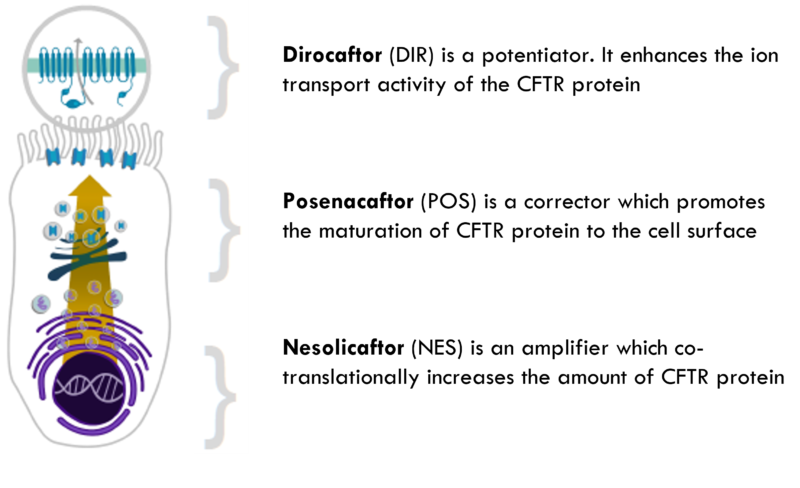 Participant selection for CHOICES is done very concisely and is based on the organoid response. In total, 52 people whose organoids was cultured and tested, will participate in CHOICES. These will include 26 so-called high responders, whose organoids showed a high response to the tested drugs. These people are expected to also show a good clinical response to the drugs. Also 26 'randomly selected' participants will enter CHOICES. These people's organoids showed a variety of responses to the tested drugs (both high and low). Including them into the trial is important to validate the organoid model of predicting clinical response.
People who are selected to participate in CHOICES, will be informed by their CF doctor in Spring 2022.
The CHOICES trial will be led and carried out by Julius Clinical, a Contract Research Organisation (CRO). Watch the video clip below to see what Julius Clinical is, and how they have dealt with Covid-19:
Stay tuned for more information on the CHOICES trial.
Eloxx
Eloxx Pharmaceuticals remains committed to recruiting HIT-CF participants into their clinical trials
Eloxx is targeting people with CF caused by nonsense (also called "stop" or class I) mutations through their drug ELX-02. ELX-02 is a so-called read-through agent, a small molecule drug candidate designed to restore production of full-length functional proteins.

In 2021, Eloxx acquired another company (Zikani). The new management of Eloxx Pharmaceuticals has decided to speed up the marketing of their drug ELX–02 through a procedure called 'Fast Track Designation'. Eloxx will adapt their clinical strategy accordingly and will recruit people with CF both from the HIT–CF study as well as from the US. Eloxx first has to complete a number of studies in patients with G542X alleles, which were importantly delayed by the COVID–19 pandemic. Read more about the clinical development of ELX-02 here. As a consequence, HIT–CF participants will be invited to the study about a year later than expected (2022-2023).
Share this page: